Leaders in Environmentally Friendly Signage
At Superior Signs we recognize that it is the responsibility of every single company to do their part in ensuring their business works to reduce their carbon footprint. After all, every dollar you spend is a vote towards the kind of future you want. We strive to ensure every single dollar spent with us is a vote towards a greener tomorrow.
To us, going green isn't a trend or a sales tactic. We have a strong drive to keep our industry as eco-conscious as possible. The steps we are taking to reduce our impact are real and only just the beginning. For example, we have recently switched to a paperless invoicing system that allows us to reduce the amount of paper we use in our shop.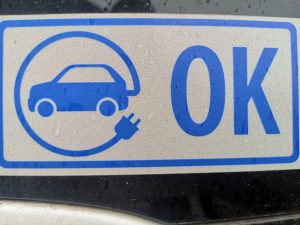 Vehicles:
In addition to the many other upgrades we made around our new shop, we have also bought some new vehicles. Recently added to our lineup is a fully electric Kia Soul®. When doing simple site checks or other city driving, we try to favour this vehicle as our go-to commuter. The only problem we have with it is that it's so quiet, we have to remind ourselves it's running.
Traditionally, bucket trucks require the engine of the truck to be running while you operate the lift. As we spend a lot of our time in the lift, we found it unacceptable to have our vehicle idling for an extended period of time. Not only is the short-term effects of this unacceptable, as we are often parked in front of buildings and other areas where people may congregate, but also the long term effects of added air pollution. To remedy this, we bought a new bucket truck, one where the lift runs on a battery. This allows us to avoid the prolonged idle time and instead turn the truck off while we are operating the bucket.
Solar Protection:
Our new location has many big beautiful east facing windows. This brings in a TON of natural light that our whole team appreciates. With it we also get a lot of heat coming through our windows. Having our air conditioners on full blast throughout much of the year was unacceptable to us. We installed a clear heat film on our windows that blocks too much heat from entering our building. We have noticed a significant reduction in our reliance on air conditioning since this was installed.
Recycling:
We believe that there is no excuse for any company, or individual, to not recycle! This is especially important for our industry as our store alone uses, on average, between 750 – 1,000 lineal feet of vinyl in a month. Our vinyl rolls have two parts to them: the vinyl itself that we use for signs, and a paper backing. We ensure that there are stations throughout our shop and educate our staff on the importance of recycling this paper backing.
We have gone the extra step to measure how much of this we are collecting a month and have found that we recycle just over 3-yard recycling containers a month. Ensuring this gets recycled rather than thrown into our landfill is only one of our promises to a greener future.
Recycling isn't a new idea to Superior Signs, we've been doing it before all our recent upgrades. But now, it is more important than ever for us to not only recycle whenever possible, but also researching new ways we can continue to recycling.
Printing:
We have recently upgraded our printing machines. When making the choice for our new printer, we opted for the one that uses an eco-solvent ink. This was important to us as these have less VOC's which means that it is much safer for our environment.
Painting:
In the past we've had to mix gallons of paint to get an exact match for our customers. We then had to dispose of the excess paint cans. Typically, we would only use small amounts of the paint can to get the ideal color which would leave us wasting the majority of the product. While we always recycled the cans, we were very conscious of the amount of waste we were producing.
To solve this issue, we have upgraded to a new Matthews paint system which allows us to mix our own paints in a way where we no longer had to dispose of the unused paint left in the can. Simply put, we mix what we need without wasting the entire can.
Here is an extract from the Matthews paint website:
"As part of the Matthews Paint commitment to the environment, we are continuously working toward becoming an even more eco-friendly facility while offering environmentally-minded products. Matthews Paint continues to develop and implement a "green" approach in all aspects of our business — not just to meet today's guidelines, but to exceed them for the benefit of future generations."
At Superior Signs we have a strong commitment to doing our part in creating a green future. With every upgrade of machinery, we are constantly looking at the most eco-conscious option for our company.